Weatherford has a variety of housing to suit any preference. Apartments are available for rent, homes of all shapes and sizes are for rent and for sale. Statistics show that 60% of homes in Weatherford are owner-occupied.
Pioneer, AT&T provides Weatherford with its local area phone service with both copper and fiber optic cable available. The central office runs a Northern Telecom DM100 digital switch.
Ample commercial services abound within the city, including machine shops, tool and die services, and electric motor repair service shops.
Careers & Business Opportunities
Local employers use
www.OKJobSearch.com
to recruit the skilled workers they need and so can you.

You can post a job or search the resume bank to find just the employee match you need.

Climate & Quality of Life
Weatherford prides itself in having one of the lowest crime rates of any city in Oklahoma. We are listed as one of the top ten safest cities in the United States. Weatherford has 14 full-time fire personnel, 15 volunteer fire personnel, 19 full-time police officers, 9 communications officers, and one full-time and one part-time animal control officer. Weatherford's fire insurance has a 3 classification, one of only 3 cities to have earned this impressive designation, with Oklahoma City and Tulsa being the other two cities. Our 911 emergency services are provided county wide and a privately owned ambulance service is available in the city.
Weatherford enjoys all four seasons. The winter brings an average of 11 inches of snow. The average January temperature is 43 degrees Fahrenheit. The summers are bright and sunny with a July temperature average of 90 degrees. The relatively dry climate receives an average of 28 inches of rain annually.
Southwestern Oklahoma State University
SWOSU has one of the top Pharmacy Schools in the country and the only accredited degree program in Industrial Technology in Oklahoma.
Approximately 5,500 students enroll each Fall. Academically, SWOSU offers its students 18 different degrees: 2 Associate, 12 Bachelor, 3 Graduate, and one Doctorate.
SWOSU is the University with the most national athletic titles (11) of any Oklahoma university during the last 25 years. To learn more about SWOSU, visit their website.
Weatherford Public Schools
Weatherford has 8 primary and secondary schools with approximately 2,000 students total. The elementary averages 1,220 students, the secondary schools average 770 students, and we employ 140 teachers.
Community and business leaders offer generous support to the school system. Parents are encouraged to be partners in the education of their children. A wide range of dedicated leaders are responsible for the success of such programs as the Weatherford Education Foundation, 11 booster clubs, a fruitful partnership with the Weatherford Area Chamber of Commerce, the Drug Free Advisory Board and the Eagle Ambassadors. To learn more about the Weatherford School System, visit their website.
Western Oklahoma Christian School & Corn Bible Academy
Western Oklahoma Christian School is an accredited elementary school offering education for pre-kindergarten through 6th grade. Corn Bible Academy is a Christian school for grades 7-12, accredited by the Oklahoma State Dept of Education. To learn more about either of these schools, visit their website.
Western Technology Center
Western Technology Center is part of a statewide system long recognized as an innovator in training high school students and adults for the jobs and skills in demand for the new millennium. Full-time programs are offered free of charge to secondary students; enrolled adults pay a small tuition fee. Student Services offer assistance in Financial Aid, Assessment, Counseling, Career Portfolios, Workforce Development, and Job Placement. An Educational Enhancement Center is also available.
WTC also offers Dental Assistant Training. The course is a two-year program for secondary students and part-time adults and can be completed in one year by adult full-time students. Contact WTC or the Chamber Office for a current schedule of classes. To find out more about WTC classes, visit their website.
The Western Plains Library System/Weatherford Library, our local public library, is home to nearly 57,000 volumes. The Al Harris Library on the SWOSU campus contains over 265,000 volumes, 1,155 journal publications, and 600 electronic databases to students with I.D. and 30 to the public.
Weatherford is now home to the $19.5 million facility that officially opened June 4th, 2007. Visit Weatherford Regional Hospital for more information.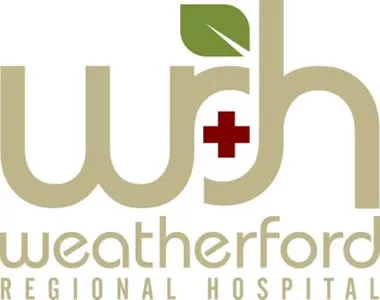 Southwestern Oklahoma State University offers the Panorama Series, the University Language Arts Department offers a varied feast of drama, musicals, and comedies at the Replogle Fine Arts Center on campus. The university marching and jazz bands display their talents during the school year with both formal and outdoor concerts and get acquainted events for the entire community.
The Weatherford Schools make their contribution to the city's cultural scene by performing plays and musicals, showing students' art, and performing choir concerts throughout the school year.
For 12 years the Arts Council has offered a Summer Arts Academy for young people between 1st and 8th grade. Classes vary from year to year and have included violin, guitar, dance, acting, pottery making, art, and creative writing. This is partially supported by the Oklahoma Arts Council but many hours are volunteered by the Weatherford Arts Council in planning and manning this very popular and successful program.